Location, Location, Location...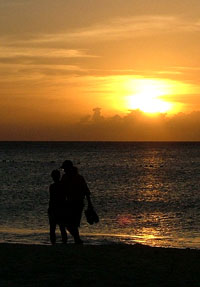 In real estate, they say it is all about location. Our house is located on L.G. Smith Blvd. in Malmok, the finest oceanfront residential area on the island. It is the "Gold Coast" of Aruba! Malmok is just far away enough from the hotels and crowds to make it peaceful. The beach is directly in front of our house. Imagine that - right across from the ocean with terrific views of Aruba's famous sunsets.
ArubaHouse is around half a mile from the Ritz Carlton and the other highrise hotels which is an easy walk along the beach. It is a paradise for runners - jogging on the beach or the new running path in the morning is outstanding. Less than two miles from ArubaHouse are many restaurants, casinos, and hotels. The supermarkets are stocked with a fascinating combination of most American products and many interesting international treats. Our children love checking out the odd "hairy" fruits and the European chocolates.

In the other direction there is Arashi Beach, a beautiful sandy beach with palapas and lounge chairs. Then a bit inland is Tierra del Sol with its excellent restaurant and golf course. At the tip is the California Lighthouse, a romantic spot to have a drink and watch the sunset.
Windsurfing, sailing, snorkeling, scuba diving, deep sea fishing, tennis, swimming in our pool under the palm trees, or whatever Caribbean fantasy you desire is either on our beach or close at hand.