We Love Aruba...
In February 1994, Greg and Hugh met on the beach in Aruba near Sailboard Vactions after a satisfying afternoon session of windsurfing. After some casual surfer chat, they began to windsurf together and began a friendship that would include at least one annual windsurfing vacation and a yearly ski trip. Their days in Aruba began with windsurf analysis regarding the wind, sail size, the forecast, and other such important matters. Then it was off to sail the blue highway. When it was not windy, they would be hopping into the water in front of ArubaHouse and snorkeling at some excellent reefs.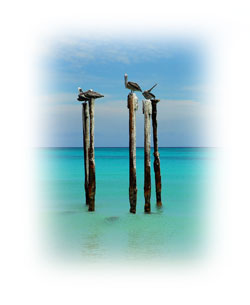 While the guys were out windsurfing, their wives, Holly and Betsy, became good friends as well. Their daughters grew up like cousins seeing each other each year in Aruba. Many hours were spent together seashell hunting, walking along the beach, swimming in the pool, shopping in Oranjestad, and visiting the Butterfly Farm.
Often the evenings began sitting on the patio at ArubaHouse with a glass of wine, staring out at ocean and watching the spectacular sunsets. Then the families were off to dinner at a new restaurant or one of their favorites, such as Que Pasa, Yemanja, Madame Janette, Wilhelmina, or Texas de Brazil.
Twelve years later, the two families became real estate partners in the ArubaHouse, the culmination of a mutual love of Aruba, windsurfing, and the beach lifestyle.