Fun Without the Sun...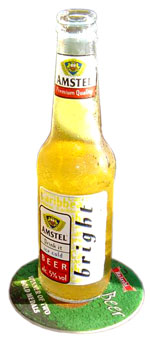 Aruba never sleeps. But it does doze. After a long day on the beach, most tourists are ready to call it a night after dinner. For those with more energy, a couple of the island's 11 casinos stay open 24/7, and many dance clubs start rolling about midnight and keep going as long as there are customers. Other nighttime activities include Vegas-style shows, current movies, local musical entertainment, and dinner/party cruises.
A great deal of the nightlife on Aruba takes place in the hotels and resorts, and that often takes the form of folklore performances and even the questionable limbo-dancing and fire-eating performances that are passed off as island customs. Just for the record, fire-eating has less than nothing to do with Caribbean customs, and limbo-dancing seems to have evolved mainly as a tourist activity. Drive through the back streets of Oranjestad or into small villages of the cunucu and listen for music. Stop in at the bar and see if the Arubans inside are limboing. Don't count on it. But what you can count on is some serious fun!
Bars
Jimmy's, behind Mainstreet
Mambo Jambo, Royal Plaza (Latin music)
Maracas, Seaport Marketplace
The Cellar, Klipstraat (live music)
Cherrie's, Caya G.F. Croes 45
Night Cap, Sabana Liber 18, Noord
Rosey's Cantina, LG Smith Blvd 152
Beach Bars
Havana, Surfside Beach
Kokoa, pier in front of Radisson
Pelican Pier, pier in front of Holiday Inn
Bars with Dining Facilities
Cafe Santé Wine Bar, Seaport Marketplace
The Plaza Café, Seaport Marketplace
Charlie's Bar, San Nicolas
Carlos & Charlie's, Weststraat
Hooters, Sasakiweg
Iguana Joe's, Royal Plaza
Old Barber Shop, San Nicolas
Qué Pasa, Wilhelminastraat
Salt & Pepper, High-rise area
The Paddock, LG Smith
Nightclubs & Dancing
Club 2000, at the Royal Plaza
Havana, Surfside Beach
TMF, Klipstraat
Chesterfield Night Club, Zeppenfeldstraat 57, San Nicolas
Desires Nightclub, at the Aruba Renaissance Resort
Jimmy's, Waterweb
Escape, Hendrikstraat
Dancing
Café Bahia - Nightclub, Weststraat
Carlos 'n Charlies - Weststraat
Club E - Nightclub, Weststraat
Club 2000 - Nightclub, Royal Plaza
Mambo Jambo - Musica Latina, Royal Plaza
Mambo Jambo
We LOVE Mambo Jambo! This festive bar is painted with bright tropical colors and features a parrot mural on the ceiling. The crowd is an international mix of Dutch and Latin American visitors dancing to the Latin tunes or chatting as they sip an exotic cocktail from a coconut. Casual to smart-casual attire.
Hours:
Daily 11am-close
Location:
LG Smith Blvd 94, Royal Plaza Mall #126, 2nd fl, Oranjestad, Aruba • 297-583-3632
Web Site:
http://www.mambojamboaruba.com/
Blue
Serene and stylish in blue and white, the Renaissance Resort's lobby bar is ideal for drinks and conversation from the time it opens up to the time it closes down. The staff are infectiously friendly, the cocktails are well-mixed and the overall vibe is simultaneously upbeat and relaxed. A great place to make some new friends, get in a little people-watching, or catch up on your vacation alcohol allowance! Plus, there's a nice variety of tapas and light meals if you've got the munchies.
LG Smith Boulevard 82, Renaissance Aruba Resort & Casino, Oranjestad, Aruba • 297-583-6000
Carlos & Charlie's
This lively Mexican bar and restaurant features drinks like the Pancho Villa and the Frog's Buster by the yard - you can even keep your glass as a souvenir. The margarita is also something to write home about. Hit music from the 60s, 70s, and 80s, free merengue lessons, and a tequila line keep the joint jumping. Casual. Popular with the cruise ship tourists... which would normally turn us away, but Carlos & Charlie's is FUN!
Location:
Westraat 3-A, Oranjestad, Aruba • 297-582-0355
Web Site:
http://www.carlosncharliesaruba.com/
Milljon
Where else in the world can you watch one of the most beautiful sunsets you've ever seen from the top floor of a 200 year old windmill? Only in Aruba! This bar is on the top floor of a windmill that was built in Holland in 1804, dismantled and shipped to the island in 1960. It was used as a museum for a while, and a restaurant, but in 2005 it was transformed into Milljon. The crowd and the vibe vary from night to night depending on the music. Great drinks and tasty light meals, too!
Location:
JE Irausquin Blvd 330, Noord, Aruba • 297-586-5399
Web Site:
http://www.milljonaruba.com/
Iguana Joe's
This festive Caribbean bar and grill serves up island food favorites like Jamaican jerk chicken and Caribbean style ribs. But the real draw is the specialty drinks like the Pink Iguana and the Lethal Lizard. The Lethal Lizard is served in a half-liter carafe and is packed with four shots of liquor. If you survive the heady cocktails, be sure to treat yourself to a logo t-shirt as proof. We've been to Aruba dozens of times... never have gone in here.
Location:
LG Smith Blvd 94, Royal Plaza Mall, Oranjestad, Aruba • 297-583-9373
Web Site:
http://www.iguanajoesaruba.com/
Sirocco Lounge
This hip cigar bar and lounge features cool jazz acts on Thursday, Friday and Saturday nights. Located at the Aruba Resort, Spa & Casino in the Palm Beach region of the island, it is convenient to the high-rise resort hotels. Smart-casual attire.
Location:
JE Irausquin Blvd 77, Aruba Resort, Spa & Casino, Palm Beach, Aruba • 297-586-4466
Scandals
Casual restaurant by day, trendy bar by night, Scandals is the place to go when you're hungry for more than the usual bar fare but still want the casual bar atmosphere. The food menu runs from seafood lasagna and escargot-pesto salad to garlic shrimp and fettuccini in a creamy chicken, mango and raisin sauce, but traditional grilled steaks, burgers and sandwiches are available for those who prefer to stick with the tried and true. After dark, the place takes on a decidedly different vibe, with what just may be the island's most varied music and a host of tropical cocktails and cold beers. Occasional live entertainment, too.
Location:
LG Smith Blvd 9, Seaport Marketplace, Oranjestad, Aruba • 297-583-4488
Web Site:
http://www.scandalsaruba.com/
Garufa Cigar & Cocktail Lounge
This chic cigar bar and jazz club is fashionably decorated with animal print carpet, black granite tables, and designer bar stools. Live jazz acts set the mood for revelers looking to sip and smoke. Single malt scotch, fine cognac and port are the house's speciality drinks. And if the Cuban cigars aren't to your liking, try one of the smaller, flavored "ladies'" cigars. This is a favorite happy hour spot and also an after-dinner drink and dessert spot. Smart-casual attire.
Location:
Wilhelminastraat 63, Oranjestad, Aruba • 297-582-3677
Web Site:
http://www.garufa-aruba.com/
Charlie's Restaurant and Bar
This bar has been an island legend for more than 50 years. Many people visit just to study the outrageous décor: banners, pennants, posters, stickers and bric-a-brac cover the ceiling and walls. Though many come the first time to gawk while they sip on a cold beer, Charlie's keeps them coming back with surprisingly good seafood, especially Creole squid and "shrimps jumbo and dumbo." (Dumbo because they got caught!) Charlie's also cooks a mean Argentine-style steak, and their trademark "honeymoon sauce" is fabulous, and hot, hot, hot!
Location:
Zeppenfeldstraat 56, San Nicolas, Aruba • 297-584-5086