Adventure Below the Ocean...
Discover Aruba underwater without getting wet! Don't miss this special opportunity to explore the beauty of Aruba marine life!
Atlantis Submarines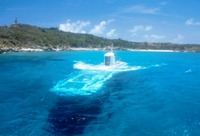 Take an exciting voyage to depths of 150 feet below the Caribbean Sea. After a short ride to the dive site on board of their state of the art transfer vessel, the SubSeeker, join them on an unforgettable guided tour aboard their 48-passenger Atlantis Submarine, voted Aruba's most outstanding attraction. Explore Aruba's mysterious underwater realm where you can witness the remains of two shipwrecks, spectacular coral reefs and an abundance of colorful sea life. The submarine is US Coast Guard approved, fully air-conditioned with large view ports which allow you to relax and enjoy the wonders of the deep.
Daily departures from their Atlantis Adventure Center, located across from the Renaissance Resort downtown with a total duration of 1.5 hours.
*Special child rates are available for 4 year olds (& at least 36" tall) to 16 years of age
Visit the
Atlantis Submarines Web Site
.
Seaworld Explorer Semi-Submarine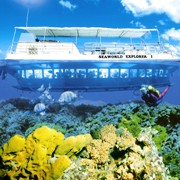 The SeaWorld Explorer is a state of the art semi submarine developed in Australia for exploration of the Great Barrier Reef. Their transfer vessel will take you from the pier to the area where you board this wonderful underwater observatory. The vessel remains above sea level at all times, while its hull, 5 feet below the surface, provides spectacular viewing of the Arashi Coral Reef, abundant sea life and the famous WWII German shipwreck, "The Antilla". This tour is ideal for persons of all ages.
Daily departures from the Pelican Pier, located at the Holiday Inn Sunspree Resort with a total duration of 1.5 hours.
*Special child rates are available, for 2 - 12 year olds
Visit the
Seaworld Explorer Semi-Submarine Web Site
.